Want to know more?
Contact us for more information about the FH1500 Mobile
Well known for it's unbeaten capacity and flexibility
FH1500 Mobile advantages:
Powerful
Fuel efficient
Easy to transport on the road
Easy to move on site
FlexReject™ protects the hammer mill from damaging on uncrushable materials
See the production in real time online with IQRs Web Visualization
Typical materials that the mobile FH1500 hammermill handles are:
Wood waste e.g. demolition timber, railway sleepers, treetops and branches, bark, offcuts from industries etc.
Household waste.
Industrial waste of different kinds.
Commercial waste, packing materials..
Easy to transport
The FlexHammer™ 1500 mobile crusher was developed for easy transportations between sites. The crusher is equipped with a very fuel-efficient engine from Scania. With 770 hp, it has more than enough power. The FH1500 is primarily for you who have large quantities of waste wood deployed in several locations that you need to easily move the crusher between
Cost-effective crusher
What distinguishes the FH1500 is its ability to achieve very high capacities in relation to the installed power. The hammer mill and engine are optimized for the lowest possible fuel consumption at the highest possible capacity. Your cost per ton when crushing the most common materials will therefore be as low as possible. It's an efficient mill – for efficient entrepreneurs.
Typical fractions
The FlexHammer™ system is mainly used when you need finished products of about <100 mm by crushing in one step. Most of our customers process materials for recycling or energy recovery.
The hammer mills design allows you to greatly modulate the size of the output material. for the FH1500 mobile crusher are 0-50 mm and 0-100 mm. All fractions in between up to about 250 mm can be achieved.
Options
As an extra option, we offer IQR's Web visualization where you can follow the production online in real time.
You can easily access your information, either if you want to be
connected in your office on a large-screen TV, with a tablet or via mobile phone. The only thing required is a connection, login and browser.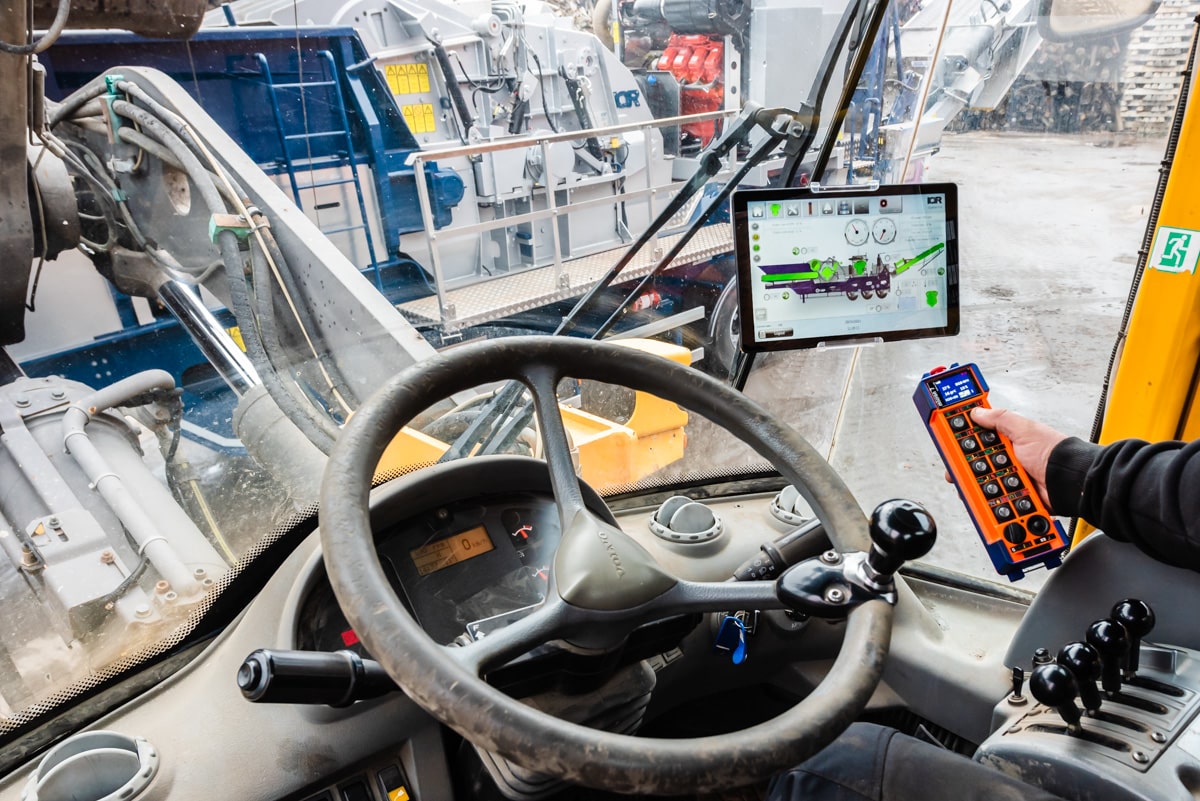 Data about FH1500 Mobile
| Dimensions | |
| --- | --- |
| Dimensions transport L/W/H m: | 12,40 (11,5 King-pin) /2,55 / 4,30 m |
| Total weight: | 35 tons |
| Feeder diameter: | 0,8 m |
| Feeder: | 4,5 m / 1,5m (6m³) |
| Discharge belt width: | 1,2 m |
| Discharge belt – dropping height: | 4,3 m |
| Hammer Mill | |
| --- | --- |
| Rotor weight: | ~4 ton |
| No. of hammers / weight of hammer: | 40 pcs / 11 kg |
| Rotor diameter / tip to tip: | 1200 mm |
| Rotor speed: | ~880 rpm |