Want to know more?
Contact us for more information about the FH1800 Mobile.
Powerful flexible mobile crusher – FH1800 Crawler
Mobile crusher with outstanding performance and over 35 years of built-in experience.
The FlexHammer™ system presents great flexibility regarding variation in feed materials.
Multi purpose heavy duty hammer mill
Swedish quality
Se the production in real time online with IQRs Web Visualization
The FlexReject™ which protects the mill from damage and stoppages if any uncrushable material is fed in by mistake
Typical materials that the mobile crusher FH1800 handles are:
Wood waste demolition timber, railway sleepers, treetops and branches, bark, offcuts from industries etc.
Household waste.
Industrial waste of different kinds.
Commercial waste, packing materials.
Typical fractions:
The FlexHammer™ system is mainly used when you need finished products of about <100 mm by crushing in one step. Most of our customers process materials for recycling or energy recovery.
The hammer mills design allows you to greatly modulate the size of the ejected material. Typical fraction sizes are 0-50 mm, 0-100 mm or 0-300 mm. All fraction sizes in between can be achieved.
The FlexHammer™ 1800 mobile crusher is the obvious choice for larger companies in the waste industry – where reliability and availability are important keys to long-term success.
Options
As an extra option, we offer IQR's Web visualization where you can follow the production online in real time.
You can easily access your information, either if you want to be
connected in your office on a large-screen TV, with a tablet or via mobile phone. The only thing required is a connection, login and browser.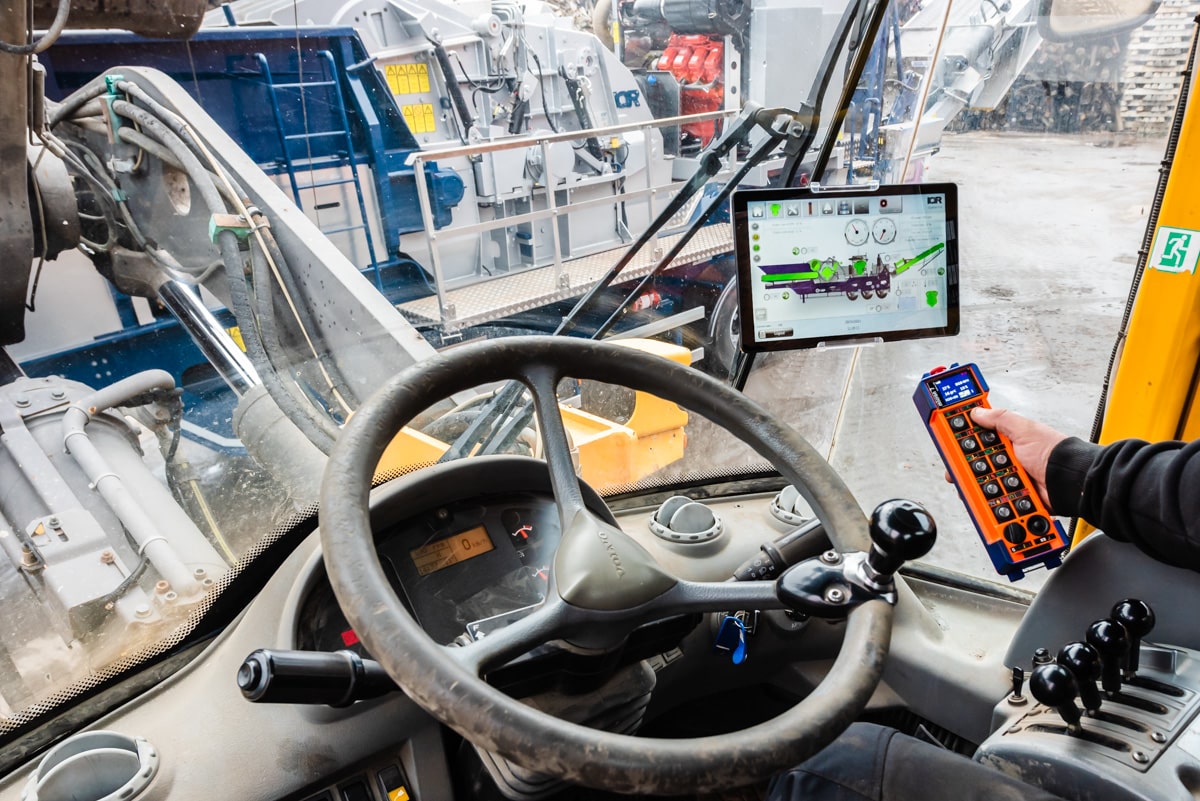 Data FH1800 Crawler
Total weight:
~52,5 tonnes
Dimensions transport L/W/H:
13,3 / 3,5 / 3,77 m
Fuel capacity:
1900 litres
Feed opening dimensions, width:
1,8 m
Feeder, Apron Feeder size. Size:
Length/width:
5,20/1,80 m
Rotor weight/with Hammers and
shafts:
5230 kg
Rotor width:
1,80 m
Rotor diameter / tip to tip:
1200 mm
Rotor shaft diameter:
295 mm
Engine:
C32 CAT, V12
Engine power:
1200hp
Hydraulic capacity:
800 litres
Magnet type:
Electro
Discharge belt width:
1,6 m
Clutch:
HPTO-21
Total weight:
116.000 lbs
Dimensions transport L/W/H:
43' 8" / 11' 5" / 12' 4"
Fuel capacity:
500 gallon
Feed opening dimensions, width:
70"
Feeder, Apron Feeder size. Size:
Length/width:
17'/70"
Rotor weight/with Hammers and
shafts:
11500 lbs
Rotor width:
70"
Rotor diameter / tip to tip:
47″
Rotor shaft diameter:
11,6"
Engine:
C32 CAT, V12
Engine power:
1200hp
Hydraulic capacity:
210 gallons
Magnet type:
Electro
Discharge belt width:
63″
Clutch:
HPTO-21