Powerful flexible mobile crusher – FH1800 Crawler
Mobile crusher with outstanding performance and over 35 years of built-in experience.
The FlexHammer™ system presents great flexibility regarding variation in feed materials.
Multi purpose heavy duty hammer mill
Swedish quality.
Finished products:
Are being used as fuel for energy production or for compost or just for volume reduction.
Particle size of finished products:
The hammer mill's design allows for a large variety of the finished products' particle size. Typical finished products are e.g. between 0–50 mm and 0–500 mm.
Contaminations:
The hammer mill has a mechanical safety device in form of a reject door which opens in case of pressure from uncrushable objects. Stones will be crushed.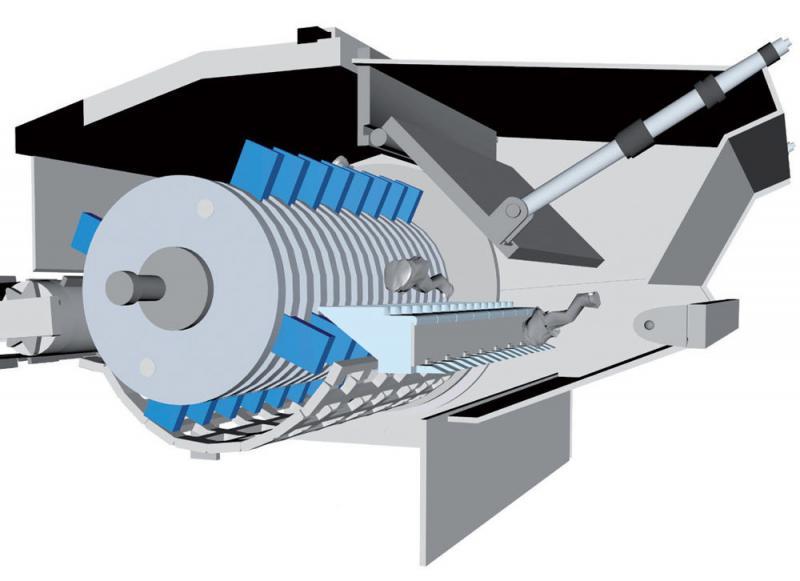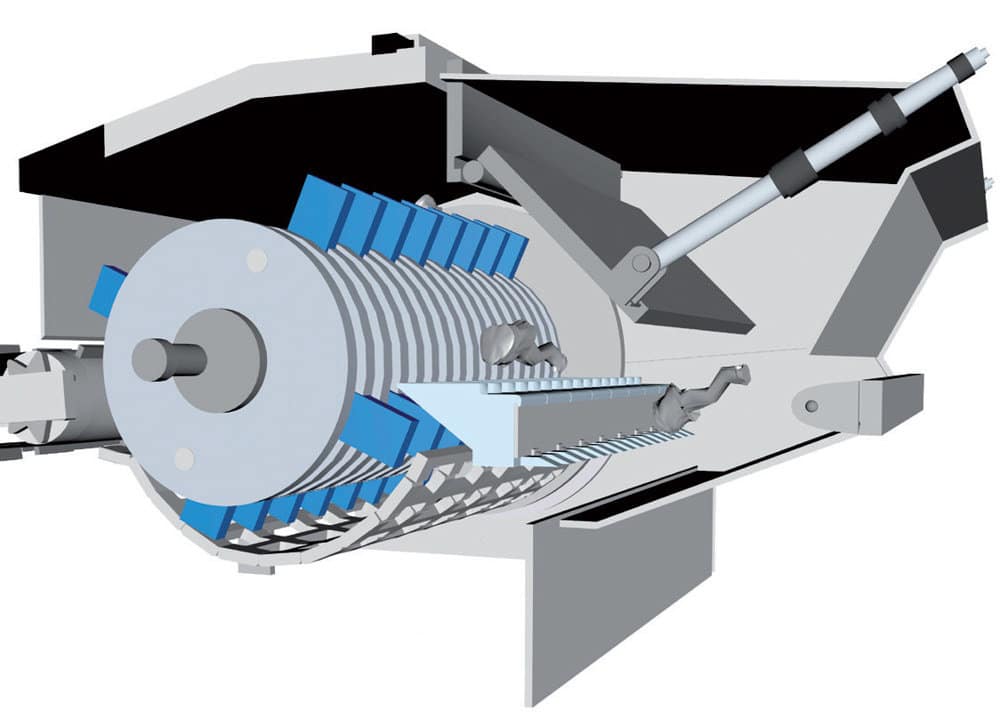 FlexRejectDoor™
This is a safety device which prtects the mill from damage and stoppages if any uncrushable material is fed in by mistake.
Total weight:
~52,5 tonnes
Dimensions transport L/W/H:
13,3 / 3,5 / 3,77 m
Fuel capacity:
1900 litres
Feed opening dimensions, width:
1,8 m
Feeder, Apron Feeder size. Size:
Length/width:
5,20/1,80 m
Rotor weight/with Hammers and
shafts:
5230 kg
Rotor width:
1,80 m
Rotor diameter / tip to tip:
1200 mm
Rotor shaft diameter:
295 mm
Engine:
C32 CAT, V12
Engine power:
1200hp
Hydraulic capacity:
800 litres
Magnet type:
Electro
Discharge belt width:
1,6 m
Clutch:
HPTO-21
Total weight:
116.000 lbs
Dimensions transport L/W/H:
43' 8" / 11' 5" / 12' 4"
Fuel capacity:
500 gallon
Feed opening dimensions, width:
70"
Feeder, Apron Feeder size. Size:
Length/width:
17'/70"
Rotor weight/with Hammers and
shafts:
11500 lbs
Rotor width:
70"
Rotor diameter / tip to tip:
47″
Rotor shaft diameter:
11,6"
Engine:
C32 CAT, V12
Enginepower:
1200hp
Hydraulic capacity:
210 gallons
Magnet type:
Electro
Discharge belt width:
63″
Clutch:
HPTO-21
FH1800 Mobile
Total weight:
~52,5 tonnes
Dimensions transport L/W/H:
13,3 / 3,5 / 3,77 m
Fuel capacity:
1900 litres
Feed opening dimensions, width:
1,8 m
Feeder, Apron Feeder size. Size:
Length/width:
5,2 / 1,8 m (9㎥)
Rotor weight/with Hammers and
shafts::
5230 kg
Rotor width:
1,80 m
Rotor diameter / tip to tip:
1200 mm
Rotor shaft diameter:
295 mm
Engine:
C32 CAT, V12
Engine power:
1200hp
Hydraulic capacity:
800 litres
Magnet type:
Electro
Discharge belt width:
1,6 m
Clutch:
HPTO-21
FH1800 Mobile
Total weight:
116.000 lbs
Dimensions transport L/W/H:
43' 8" / 11' 5" / 12' 4"
Fuel capacity:
500 gallon
Feed opening dimensions, width:
70"
Feeder, Apron Feeder size. Size:
Length/width:
17'/70"
Rotor weight/with Hammers and
shafts::
11500 lbs
Rotor width:
70"
Rotor diameter / tip to tip:
47″
Rotor shaft diameter:
11,6"
Engine:
C32 CAT, V12
Engine power:
1200hp
Hydraulic capacity:
210 gallons
Magnet type:
Electro
Discharge belt width:
63″/td>
Clutch:
HPTO-21
Other FlexHammer™ crushers